Gearóid Ó Tuathaigh, in

Ireland before the Famine 1798-1848

, has noted the huge population increase in Ireland during the 18th century, mirroring that in England and much of Europe.


In 1767 Ireland's population was 2.5 million, by 1781 it was over 4 million "and twenty years later it was close to 5 million". It's clear too that the Byers families in Ireland also must have multiplied across these years - though they certainly did much better in the 19th century!
See also
here
for an early 18th century Cavan connection (c.1717-c.1734) which awaits authentication of its sources.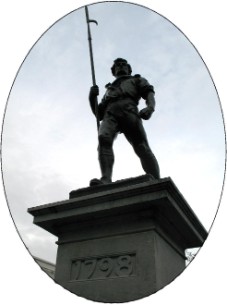 Poll Book for Co. Cavan, May 1761

Poll books listed the names of registered voters and the candidates they voted for.

Only Protestants with freeholds worth 40 shillings or more a year were entitled to vote at this time.

Catholics were excluded altogether until 1793.

For all three listed Byers families (and the McIlwaine), their Freehold was the same as their Place of Abode. McIlwaine is included because of a link to my own family.

Name Place of Abode
Byars, John Cladcough
Byars, Theobald Fintavin
Byers, William Cladcough
McIlwaine, John Billisis
An online transcription (now only available to paid-up members) sourced from the Ulster Historical Foundation's Directory of Irish Family History Research, No.23, 2000, prepared by Terry Eakin, gives some different modernised spellings:

John Byars of Cladeough in the civil parish of Claddagh, Castlerahan;

Theobald Byars of Fintawan in the civil parish of Lurgan;

William Byers of Claddagh in Castlerahan and

John McIlewain of Billis in Killinkere.
There were four candidates in the election. All the Byers votes went to Maxwell and Newtown; the McIlwaine votes went to Coote and Montgomery.
The electorate was restricted to £2 freeholders who subscribed to the Established Church, were resident in the constituency, were not married to "Papists" and had sworn not to bring up their children in the Roman Catholic Church.
They were mainly the tenants of the landlords and they had to swear the necessary oaths and declare for their chosen candidate in front of the sheriff in the courthouse.
Brinsley Butler (Lord Newtown Butler) and Barry Maxwell (Lord Farnham) supported the Dublin Castle administration. They were opposed by Coote (Lord Bellamont) and his ally George Montgomery who were the "patriots".
Coote famously described Cavan as "all acclivity and declivity without the interuption of a horizontal plane; the hills are all rocks, the valleys are all bogs: and the people all savages".
The Religious Survey of 1766 (Cavan)
Early in 1766, the Irish House of Lords instructed Church of Ireland rectors to compile lists of all the heads of households in their parishes – not just those in the Established Church of Ireland, but Dissenters (mainly Presbyterians) as well as Catholics. Neither the manner in which this was to be done, nor the precise details required, was defined. Some rectors merely detailed the numerical totals of population, some drew up partial lists, and others detailed all householders, including their addresses.
All of the original returns were lost in Dublin's PRO fire in 1922, but extensive transcripts survive for some areas, and are deposited with various institutions. There is a full listing of all surviving transcripts and abstracts in the National Archives in Dublin, though it doesn't differentiate between those returns which supply names and those which merely give numerical totals.
The following information is from the PRONI transcript of the Co. Cavan records retained at T808/15266. The Kilmore Diocese Summary stated that the Lurgan and Munterconnaught parish had 35 Protestant families or 164 Protestant persons, 569 Catholic (listed as "Papist") families or 2,803 "Papist Persons", 3 Priests and no Friars.
In April 1766, Rev. William Cradock, Rector and Vicar noted just one Byers family:
Robt. Byers, a Dissenter, had a household of 8 persons, all Protestant.
A fuller listing is available as a PDF here below.
Flax-seed List for Co. Cavan, 1796
There are three BYERS listed for Co. Cavan (see below).
No-one is listed for Co.Down.
Co. Armagh has Samuel Byers from Loughgilly (most likely the father of Rev. John Byers, husband of Margaret Byers.
Co. Donegal has Archal. [Archibald?] Byers from Donaghmore.






RH Pic:

The Spinning Wheel

, a painting by William John Wainwright (1855-1931)



This is a copy of the original promulgation: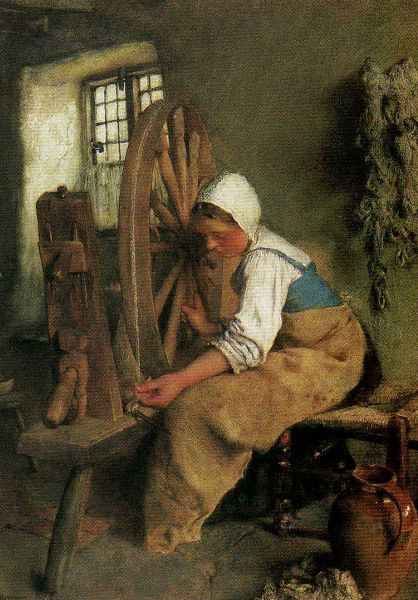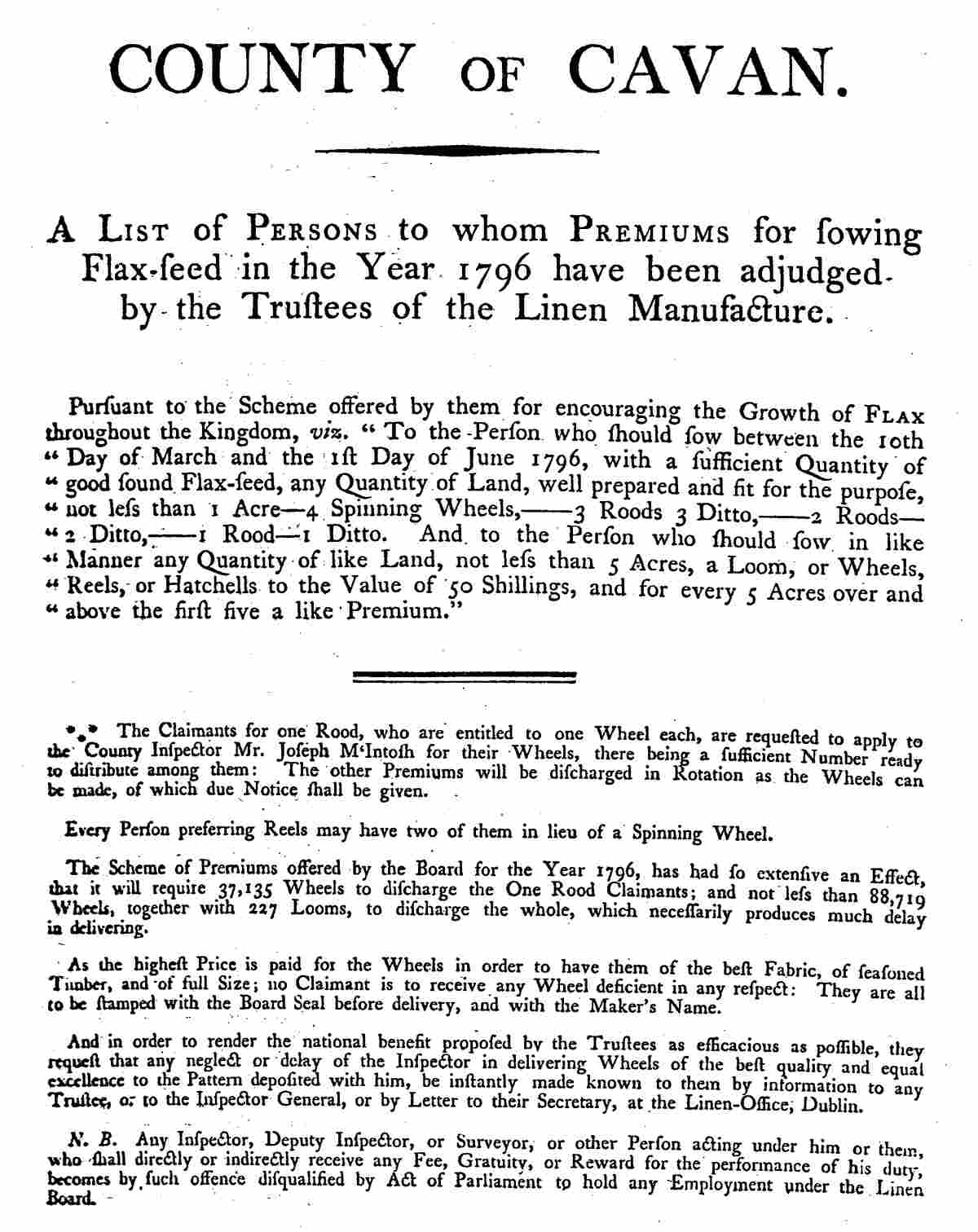 The following persons are included in the Cavan listings – I was searching for Byers along with McIlwaine, Ney, Wedlock and Johnston.

Parish

Parish of Bailieborough
Parish of Castleraghan
Parish of Drumgoon
Parish of Killishandra
Parish of Killincare
Parish of Kilsherdney
Names No. of wheels
Robert Johnston 1
Joseph Byers 2
John Byers 1
Robert Byers 1
John Wedlock 1
Isabella Johnson 2
Prussia Johnson 2
Samuel Johnson jun. 1
Samuel Johnson sen. 1
Thomas Johnson 1
Charles Johnson 1
Andrew McElwain 4
Samuel McElwain 2
George Johnston 1
John Johnston 1



Church of Ireland Marriage Licence Bonds
Diocese of Kilmore & Ardagh
Kilmore takes in parts of many counties including Sligo, Leitrim, Cavan, Monaghan and Armagh.
Surname Given Name Other party Year
BYERS John Frances Bran 1768
BYERS Robert Elizabeth Bell 1769
BYERS Sarah Thomas Johnston 1771
BYERS John Catherine Forster 1774
Diocese of Clogher
The Diocese of Clogher covers an area comprising part of Tyrone, Fermanagh and parts of Armagh.
Monaghan and Cavan Marriage Licence Bonds date from 1630-1800
Surname Given Name Other party Year
BYERS John Mary Clark 1732
BYERS Robert Agnes Smart als. Hoy 1738
BYERS William Lettice Wright 1755

This information originally came from an online source at ulsterancestry.com but that's no longer available. However, it may now be found here (2020).


William Byers at Staigue Fort, 1787 and in Co. Down

One of the largest ring forts in Ireland, Staigue Fort, Castlecove, Co. Kerry, is referred to in the 1897 Journal of the Royal Society of Antiquaries of Ireland.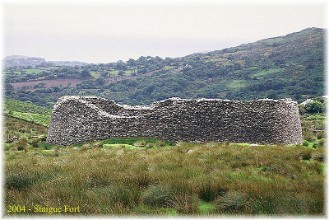 Photo of Staigue Fort, 2004, by Guntram Hufler, Saalfelden, Austria.

Used under the Creative Commons Attribution-Share Alike 3.0 Unported license.
"In what was practically the dawn of Irish descriptive archaeology, about 1787, General Vallancey, who was then conducting a military survey, sent Mr. W. Byers, one of his assistants, to survey this part of the country. Byers marked the building as a stone fort in his note-book."
And that's the only mention of W[illiam] Byers in the Journal.



General Charles Vallency (c.1726-1812) mapped some of the southern-most counties of Ireland between 1776 and 1790 as part of an unfulfilled

Military Survey of Ireland

, a forerunner of the Ordnance Survey. Vallency's work remained in manuscript.
Right: The drawing by William Byers, "Bird's eye view of Staigue Fort", Co Kerry, 1787. National Library of Ireland (Harbison, Peter. "An Architectural Enigma." Irish Arts Review 23.3 (2006):100-01).
Click here for more information on Staigue Fort.

PRONI has a number of maps which were surveyed by William Byers around 1788-90 for Lord Downshire, including the Blessington Town Parks, Co. Wicklow and, in Co. Down, Hillsborough and parts of Hillhall, Ballymurphy, Corcreeny and Upper Iveagh.

William Byers also makes several appearances in the correspondence of Lord Downshire.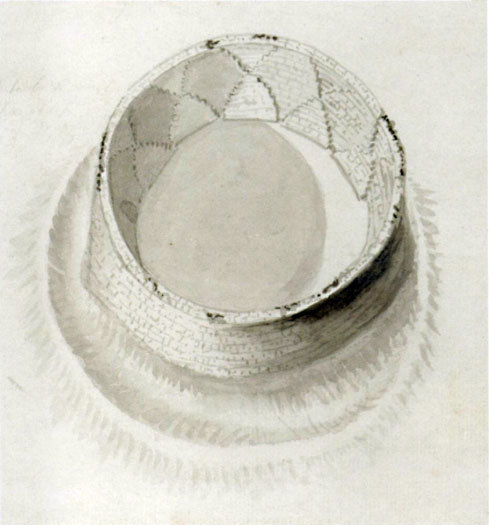 In August 1792 Lord Downshire wrote to John Reilly of Scarva:
I am against saving any money for the new line, as it must take time to consider it well and to have an act of parliament to put it in execution; so pray, good Mr Dowdy, let the old road be made as good as possible with the money in hand, that we may not break our carriages and necks during the winter. I spoke to Byers before I went to England, to survey the whole of that country in order to lay out a line from Newry to Hillsborough without favour or affection, and avoiding the mountains over which the roads now pass, but I have not yet asked him but I daresay he has thought of it. ...
Everyone seemed on relatively good terms when Thomas Lane of Hillsborough wrote to Lord Downshire on 30 October 1795:
"... I attended a turnpike board at Banbridge yesterday, and took with me Mr Byers by desire of Mr Reilly to ascertain certain points about the gates, etc., to be erected on the new road."
But things obviously weren't going well by 1 October 1797 when Lane wrote to Lord Downshire:
"The disputes about which were public and which were private roads, which were direct and which were roads to gratify individuals, in the grand jury room, brought up again Mr Byers and his county map, when Mr Blackwood called upon me in the name of his father to afford some satisfaction to the general jury on that head. I was obliged in conscience to say I was not enabled so to do, that I had spoke to Mr B. before I left home, supposing the matter would be brought forward, but that he had not furnished me even with a pretext for his delay. It then seemed to be the unanimous opinion of those present that a vote of censure should pass against Mr B. and a resolution also not to consider him any longer engaged in the prosecution of the work, and I was requested to inform your Lordship that it would be expected your Lordship would account for the money already advanced to Mr B. (as guarantee for him) and also return the amount of the several subscriptions."
Another letter from Lane, dated 14 April 1798 spelt out the financial situation:
"... A resolution was entered into by the grand jury that the foreman do write to Mr Byers and inform him that they no longer consider him engaged in making a county map, and that unless he returns the money advanced to him on account thereof before the summer assizes, proceedings will be taken against him and his security. By the treasurer's books, he received in March 1788 £100, and in 1789 £50, for both which sums Mr Slade joined in a bond, and against whose estate they intend to proceed, if Mr Byers does not exonerate the security by paying the debt. ..."
Nearly a year later came this account from the county assizes on 16 March 1799:
"... the county map has already been brought forward. ..., Mr Reilly was called upon for Mr Byers's reasons ..., and it seemed to be the sense of the gentlemen that the treasurer should call upon B. and his security for the £150 advanced ten years ago. ... the person who executed the map of the county of Antrim is mentioned to be applied to undertake it."
The saga came to an abrupt end - certainly for William Byers - when Lane wrote to Lord Downshire on 16 February 1800 telling him that Mr Byers had died.


Byers graves in Co. Down
Did the Byers families in Cavan come directly from Dumfries in Scotland or, perhaps more likely, from Scotland by way of Co. Down and the Hamilton estates?

The PDF below lists many of the Byers gravestones in Co. Down. The complete inscriptions are available in R.S.J. Clarke's invaluable series Gravestone Inscriptions, published by the Ulster Historical Foundation and available to purchase from its website.

This PDF listing covers BYERS references across seven graveyards in Co. Down: Holywood, Movilla (Newtownards), Greyabbey, Kircubbin Presbyterian, Templepatrick (between Donaghadee and Millisle), Whitechurch (Ballywalter) and Donaghadee.
The dates range from the 17th century to the 20th, but mainly centre on the 18th and 19th centuries.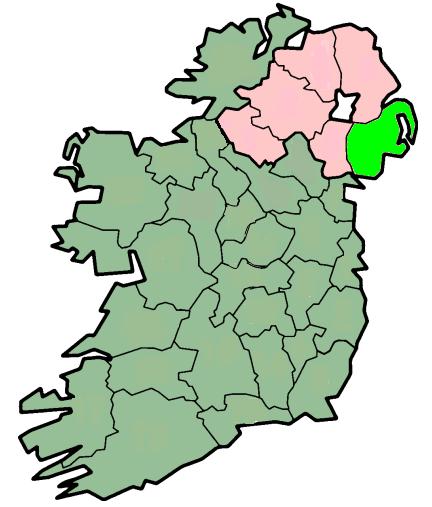 Co. Down in the context of Ireland and Northern Ireland.

Byers families in the 1798 Rebellion
Social unrest came to the surface in agrarian unrest and sectarian violence during the 1790s.
The Protestant Peep o' Day Boys were mirrored by the Catholic Defenders. In 1796 the Orange Order was founded after a clash between Peep o' Day Boys and Defenders at Loughgall.
This serious incident, the Battle of the Diamond, was the culmination of the increasing sectarian violence sparked by trouble which followed a sermon preached in July 1795 at Drumcree Church celebrating the 1690 Battle of the Boyne.


The government gave its support and encouragement to the Orange Order as a potential means of curtailing the activities of the United Irishmen whose support for Catholic emancipation and close interaction with the Defenders was seen as a dangerous coalition and a serious threat to the Establishment.
The Society of United Irishmen had been formed in Belfast in 1791 and it sought to reform the Irish Parliament, giving everyone an equal vote – regardless of their religious affiliation. It also sought greater independence for Ireland, inspired by the ideals of the French Revolution of 1789.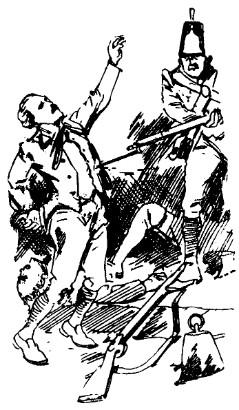 The Society was mainly led by liberal Presbyterians and, more than coincidentally, earlier in 1791 the first part of Thomas Paine's The Rights of Man had been published. In 1792 the Society played a major role in the Bastille Day celebrations in Belfast which included the Harpers' Festival. The following year the Society was outlawed.

Co. Cavan

When the ill-fated Rebellion took place in 1798, there was tremendous support around Bailieborough, centred on Corglass, for the United Irishmen. There were certainly Byers Presbyterians in the area, but so far no records have been discovered to link them to the following specific events.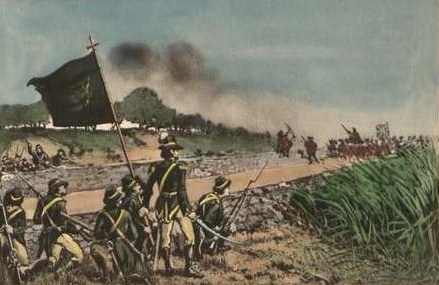 The Battle of Killala
From R.R. Madden's The United Irishmen, their lives and times (1842).

Perhaps around 5,000 United Irishmen, with five Presbyterian ministers amongst their number, gathered on a small hill (now known as Rebel Hill) beside Castle Lake on 27 August. Word had come that the French invasion force under General Humbert which had landed at Killala Bay, Co. Mayo, a few days earlier, was on the move.

The United Irishmen were no match for the Cavan Militia and Yeomanry plus the Killinkere Yeomen. In the battle, around 300 were said to have been bayoneted, shot or drowned trying to escape across the Lake.
One group of United Irishmen, under the leadership of a Presbyterian minister, escaped along the old Cavan road but were attacked while washing their wounds at a stream beside Parker's Lake. The attackers were soldiers from the Sutherland Fencibles, a Scottish force sent to ward off General Humbert. Around 400 United Irishmen were slain at what has ever since been known as Bloody Bridge because the waters ran red for so long.
See also Corglass Church on the Church Records page. There's also a very useful book by Eugene Markey entitled 1798 The Cavan Connection, published by the Bailieborough 1798 Bi-Centennial Committee.


Co. Monaghan

Not all Byers family members supported the United Irishmen.
This excerpt from the 1895 publication by James Duffy and Co., Dublin, of Historical Sketches of Monaghan by Denis Carolan Rushe, refers to the informer Alexander Byers and a trial in 1797.
The great effort of the United Irish Leaders was to unite all parties and to form one grand society of Irishmen, and this they succeeded very well in doing, under the circumstances, as far as the County Monaghan was concerned. The Presbyterians and Catholics of this county, especially those who resided in and near Glasslough and Newbliss, joined and bound themselves together for the liberation of their country in the United Irishmen's organisation. ...
Almost the entire male population of Glasslough, of all creeds, were enrolled in the society for the liberation of their country. It was an important town at the time, for between it and the neighbouring village of Tullyree (now no more) there was a full regiment of 600 United Irishmen. The Government officials appear to have been in a terrible fix, for no informers of importance could be got in the country, and the only men brought to trial were those who would make a mistake, and tender the oath to some despicable traitor to his country. ...
The United Irishmen then adopted throughout the county the dangerous method of making midnight raids for arms on the houses of those who were not members of the society. The few weapons they got were not worth the risks they ran by giving opportunities for wholesale charges to be made against the country people, and the danger of leaders being recognised by those in the houses they visited.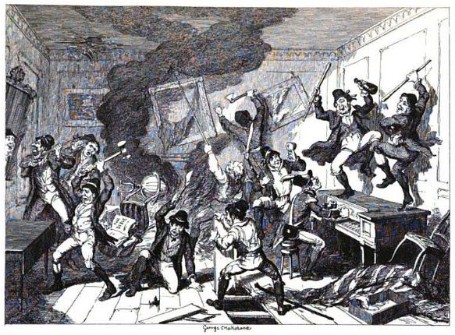 "Rebels" destroying a house and furniture.
One of George Cruikshank's illustrations for William Maxwell's History of the Irish Rebellion in 1798 (published in 1845).

From all parts of the country men were tried at each assizes for raiding: for arms. It was for one of these unfortunate raids that Mr. Charles Johnston, the colonel of the United Irishmen of Glasslough, was arrested with fifty others, on the information of a man whose house was alleged to have been visited, named Alexander Byers, called by the country people "Weepy" Byers, of Drumgarron, brother-in-law of William Murphy who swore against George Johnston.
In October, 1797, they were tried, and some were convicted. Charles Johnston, Francis Carbery, of Glasslough; Patrick M'Kenna and William M'Kenna, of Doaghies; William Patterson, of Glasslough; and John Hughes, of Sillis, were all sentenced to be hanged.
Both Francis Carbery and John Hughes were martyred for their country, and were executed at Glasslough on Saturday, the 16th October, 1797. Hughes had a funeral a mile long; every man at it wore a red cross on his breast. The two M'Kennas and Patterson were detained for some time, but when it was found that they could be of no use to the Government, even though they turned traitors, which they refused to do, and some influential persons having interested themselves on their behalf, they were discharged.
Poor Johnston was kept in prison for some months, where every effort was used to induce him to betray his countrymen, but all in vain. Ultimately, he was brought for execution to Glasslough, and even at the foot of the gallows he was offered life, liberty, and reward, if he would only inform on his comrades, but he again stoutly refused.
As a last resource his mother was brought to him, and she was asked to try to induce him to become an informer. She boldly replied that though the sacrifice was great, she would never ask her darling son to stain his name. The execution was carried out, and thus died a hero of whom any nation might well be proud.



Co. Down
Co. Down provides several specific Byers references.
1.
In evidence sworn on 8 November 1798 before James Clealand, Justice of the Peace, and Captain of the Newtownards Yeomanry, a Newtownards tailor, Hugh Montgomery, stated under oath that John Byers "wore a shoulder belt with a sword by his side and was called sergeant". Byers gave Montgomery a gun on Sunday 10 June and had taken him to Scrabo Hill; sometime later he had led many men through Comber to Saintfield and Ballynahinch.
Source: Harry Allen, The Men of the Ards, Ballyhay Books, 2004, quoting from the Lytton White Papers, PRONI, D/714/3/39.

Harry Allen, writing about the first unsuccessful attack by the United Irishmen on Newtownards on 9 June 1798 again mentions the same John Byers:
"Except for Captain John Byers, the previous day's recruiting sergeants seem to have stood aside for other men as they gathered at Movilla Cemetery. ..."
2.
Then there was young Henry Byers of Saintfield, one of those in the lengthy list of people hanged for their part in the Rebellion.

In Appendix XI of Richard Robert Madden's 1842 volumes, The United Irishmen Their Lives and Times, there is a list of the religious affiliations of "persons of eminence, or leading members of the United Irish Society".

See this PDF:

Under the Presbyterian listing, is included a Robert Byers and Henry Byers.

I have as yet no information on Robert, but Henry is tagged on the above list as being one of those executed. He has been credited as one of the leaders at the Battle of Ballynahinch.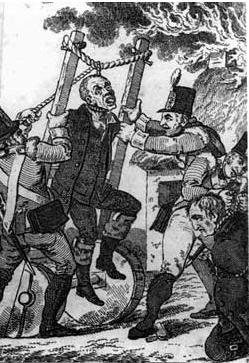 His employer, Nicholas Price, was not a forgiving man. The situation was described by the Rev. Thomas Ledlie Birch of Saintfield (quoted from the McClelland transcription in Revolt in the North by Charles Dickson (Constable, 1960)):
Henry Byers, being tried by courtmartial in Belfast upon a charge of driving to Saintfield some of Mr. Price's bullocks, as provisions for the use of the insurgents, and also for riding one of Mr. Price's horses upon expresses ---------- the court, not desiring to adjust him to death, transmitted the decision to Mr. Price's house and left the sentence to his option.
Mr. Price posted to Belfast and had Byers ordered immediately for execution, and upon his being brought forward to the guard house door clapped him upon the shoulders and pointing to the gallows and the heads above it upon the market house spire, told him to take heart and go boldly for he should soon have plenty of his neighbours for Company.
Byers was a very young man and lately married to a daughter of one of Mr. Price's most devoted servants.

This next account, which also mentions Henry Byers, refers again to his hanging and is from PRONI at D 1759/3B/8. It is also available to read online, in full, at the Irish Emigration Database.
It was written by the Rev. Thomas Ledlie Birch who escaped hanging in return for an agreement to go into exile. It is entitled:
A letter from an Irish emigrant to his friends in the United States giving an account of the commotions in Ireland of the United Irishmen, and Orange societies and of several battles and military executions. Philadelphia, 1799.
...
To the great honour of the people, though so much provoked, very few instances of rapine or barbarity can be imputed to them. Many of the people in arms who have fallen into the hands of the military, or been apprehended on suspicion of abetting the revolution, have been freed by Court Martial, a considerable number executed, and a very much greater number sentenced to transportation out of his Majesty's dominions.
If a man upon his trial was proved to be a man of property and good character he was told that was against him, as it showed he must have influence, and therefore was more criminal. Among those executed at Belfast were Mr. James Dickey, attorney, of Crumlin [26 June], John Storey, printer in Belfast [30 June],

Henry Byers

of Saintfield [11 July], their heads were placed upon the market house; Mr. Hugh Graham [or Grimes, 5 July] of Creevytennant, near Saintfield, and Mr. Henry Joy McCracken [17 July], hanged only. ...
... with others too numerous to mention, in different parts of the Kingdom, all of whom generally died with the most heroic fortitude, glorying in their cause, and exhorting the people. Indeed, from those who have suffered in various ways, being the most virtuous independent part of the community, it is now become a proverb - the jail, the bar, and even the gallows are posts of honour.
3.
Also in the Battle of Ballynahinch was

Col. Alexander Byers

of Greyabbey (see the

Betsy Gray

section below for a further mention).

The following abbreviated account of that Battle is from the same

Letter from an Irish emigrant

as above (PRONI at D 1759/3B/8 and also available to read online, in full, at the Irish Emigration Database).


RH pic is of Rev. Thomas Ledlie Birch who wrote the

Letter

.
He was the Presbyterian minister in Saintfield and formed the Saintfield United Irishmen in 1793, subsequently playing an active role in the 1798 Rebellion and the Battle of Ballynahinch.
A biography (a PDF) is available at Discover Saintfield.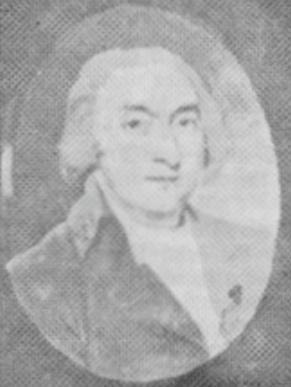 New York, September, 1798.
We sailed from Belfast, on board the Harmony of New Bedford, Captain Asa Swift, and landed to the amount of sixty-five in number, in this City a few days ago.
Some of the passengers have come hither on mercantile affairs, but much the greater number of us have been literally transported from his Britannic Majesty's Dominions under the sentence of a Court Martial, or obliged to fly to avoid instant death by military execution, which is now carrying on in all parts of that unfortunate Ireland, in order to check the revolution which British tyranny has produced and long insulted humanity has loudly called for.
...
Upon the 10th of June, a number of people from the different neighbouring parts assembled at Saintfield to the amount of about three thousand; and Mr. Henry Munro, Merchant of Lisburn, also arrived, and took upon himself the command as general, a post, notwithstanding his worth, and goodness of heart, for which he was not qualified. General Munro, by advice, took a very strong advantageous position in Nicholas Price's castle, and demesne, near Saintfield, from which no
force could be spared by government, could have dislodged them; plenty of forage, and every other necessity easily obtained, and there he was advised to wait an attack.
General Munro, through the suggestion of some inconsiderate persons was persuaded to decamp to Ballynahinch, with a view of obtaining reinforcements, and falling round upon and attacking the garrison of Downpatrick. ...
About three hours after General Munro marched from Mr.Price's demesne, General Nugent, commander-in-chief of the Northern District arrived at the verge thereof next Oughley Hill, from Belfast, having with him a detachment consisting of the Fifeshire and Yorkshire fencibles, Monaghan militia, a mortar, with bomb shells, and eleven other pieces of artillery. ...
General Munro, contrary to advice, posted a detachment of his men in the open country, upon the Saintfield Road, to oppose the soldiers in approaching the town of Ballynahinch. ... The military coming forward with the cannon in front (it being then about six in the evening) commenced a heavy fire of bomb-shells and grape-shot, which was returned with good effect, from a few musketry planted behind hedges and other small covers, killing about eighty of the militia, the loss said to have fallen principally upon the Downpatrick division, commanded by Major Stewart, and the Yeomen.
Many of the people being total strangers to the awful grumblings of blazing and bursting shells and showers of desolating grape-shot, and being struck with despair at the burning of their houses, precipitately deserted their leaders and returned no more to the charge.
However, a number of people retained their station upon a hill, called Windmill Hill, just above the town. The military kept at a respectable distance, and continued their cannonade until dark, with little effect, having in all killed no more then two or three of the people.
When dark the people evacuated Windmill Hill, and occupied an eminence called the Church Hill, situated on a sideway near the opposite corner of the town, near Lord Rawdon's demesne, and separated from Windmill Hill by a small lake. The military then advanced and took possession of the position, whereupon the people from Church Hill commenced (with some effect) a fire from six swivels and some muskets, but were not answered by the soldiers. ...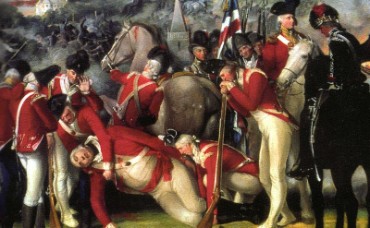 The Battle of Ballynahinch.

Part of an early 19th cent. oil painting by Thomas Robinson.

During the night a party of militia went into and plundered the town, and being assisted by the bomb shells from Windmill Hill set it on fire, whereby that most
beautiful improved place, was reduced to nearly a heap of rubbish.

Upon the approach of light, General Munro led his main body ... to the assistance of the party upon Church Hill, now greatly exhausted by a severe conflicy, occasioned by a rally of the town plunderers. The General led on with the most undaunted courage, and animating language.
The party of military which remained at Windmill Hill advancing with their cannon, a dreadful attack and carnage ensued in the street, amidst scorching flames and the crash of falling houses. One of the people endeavouring to seize a cannon, killed with his pike a soldier putting the match, and another countryman approaching with the hammer and spike, was blown away by the discharge.
Poor Munro, being partly weakened by desertion, and borne down by superior arms and powder, was obliged to fly, leaving dead fifty-eight persons, besides four or five shot by the 22nd Light Dragoons in scouring the country, among whom there was a young woman. In the number of those killed in the street, who greatly distinguished themselves, was Abraham Skelly of Tonaghmore near Saintfield, and

Col. Alexander Byers

of Greyabbey, who advanced in the front with twelve others, to lead on the attack.

General Munro fled accompanied by one person, the faithful companion of his misfortunes (one of our passengers) and both were apprehended at Magheraknock, about two miles distant from Ballynahinch, by a party of Orangemen, who delivered them over to the 22nd Light
Dragoons, by whom they were escorted to Lisburn, where two days after General Munro was tried by Court Martial, found guilty, and hanged half-an-hour after trial, before his own door, his head severed from his body and placed upon a pike on the market house.


4.
The Rev. Robert Gowdie, minister of Dunover, Co. Down, was court-martialled alongside Henry Munro following the Battle of Ballynahinch and executed on 2 July 1798.

In a letter dated 27/28 June 1798 and addressed to John Catherwood (who PRONI reckons was possibly a magistrate), an informer - Hugh McComb - named people from the Millisle/Carrowdore area of Co. Down who were rebels. He also listed others who, with some applied pressure such as threatened loss of their property, might corroborate McComb's information.
"Sir, in consequence of the length of time that the Rebellion has been raging in the neighbourhood of Dunover, we think it would terrify them if Mr Gowdie were punished at home more than if it were done in N'T.ards [Newtownards]. As I told you, they are the most dangerous knot of rebels."
Having then named names, McComb continued with a the list of 14 "Loyal persons", amongst whom was Andrew Byers of Gawnaway [Ganaway].

All 14 "were at home during the rebellion and if questioned sharply, told their property would answer for their silence, swear them to discover all they know, as they are Conscientious men there is no doubt but discoveries will be made. Wm Campbell, Samuel Byers and Hugh McComb may be taken there in order to Encourage others, but cannot be of any use. The best way would be to summon them as Evidences for the Crown; Wm Eccles would serve them, or David Milligan."
The full letter is available on the PRONI website: Ref. no. D3579/1. The punctuation in the excerpts above is mine.
Betsy Gray, 1798 and Byers of Greyabbey
Betsy Gray was apparently a young Presbyterian woman of 20 years of age and great beauty, one of the "Hearts of Down". She took part in the 1798 Battle of Ballynahinch and was murdered as she escaped. Or so the story goes.

That classic tale comes from a popular novel,

Betsy Gray or the Hearts of Down, A Tale of Ninety-Eight

, by Wesley Greenhill Lyttle (1844-1896), published in 1896.

It's difficult to know where fact and fiction begin or end, but the real Greyabbey brothers Alick and William Byers put in an appearance. Alick is the same figure as the Col. Alexander Byers mentioned in the section above (Co. Down No.3).

They lived in Grove Cottage at Ballyboley and were said to have drawn lots as to which brother would remain at home to look after their 86 year old mother, Sarah Byers. Alexander was killed on 13 June 1798 at the Battle of Ballynahinch and is buried in Greyabbey cemetery (see the listing of Byers graves in Co. Down above), unlike most of the fallen "rebels" who were buried in mass graves.

The PDF below contains the most relevant section of

Betsy Gray

- Chapter 29.