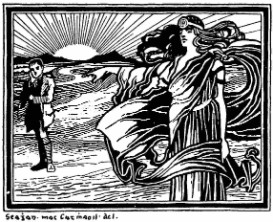 These were difficult years for the Scots in Ulster.

There was the unsuccessful 1636 attempt by some to emigrate to New England aboard the
Eagle Wing
.

There was Thomas Wentworth's
Black Oath
of 1639 asking the Ulster Scots to renounce the Scottish National Covenant; many settlers abandoned their farms and returned to Scotland rather than do so.

Then came the 1641 rebellion which further depleted the Ulster-Scots, not least in Cavan.

The 1650s brought Oliver Cromwell - no supporter of the Covenanters.

Nor was King Charles II after the Restoration of the Monarchy in 1661: it was the established church or nothing. Presbyterian ministers were reduced to addressing their congregations in the fields.

And tough times in Scotland (the
Killing Times
) meant that many persecuted Covenanters fled to Ulster.

The Revolution of 1688 and the accession of William and Mary to the throne finally seemed to promise better times.
Limerick Town
Another of John Campbell's 1904 woodcuts.

Muster Roll for Co. Cavan, 1618
The large-scale Plantation landlords, known as "undertakers", were required to muster all able-bodied Protestant males on their estates between the ages of 16 and 60.

A government official, the muster master, recorded their names and arms.
The original muster rolls were destroyed in the 1922 fire at Dublin's Public Records Office, but copies survive for the nine counties of Ulster in the British Library (Add.MSS 4770) and these are available in the Public Record Office of Northern Ireland (PRONI) in copy and transcript form (ref. D1759/3B/5).
In general the material is arranged by barony without sub-division by parish, so it's impossible to identify the exact location of individuals.
I found no listings for BYERS in Co. Cavan.

However, the Muster Roll for Fermanagh, 1631, for the Barony de Magerbuy has this:
Mr. Archdall undertaker of 2,000 Acres his Men & Armes as followeth:
[Then follows a lengthy list which includes]
David Byers sword
John Birs

Book of Survey and Distribution, Co. Cavan, 1641
The books of survey and distribution show the changes in land ownership during and after the Cromwellian period when large areas of land were taken from Roman Catholics and granted to Protestants.

The recorded names, whether of the dispossessed or the new owners, are inevitably only the wealthy few.

Again, no listings for Byers were found.


1641 Rebellion
Following the 1641 Rebellion, many depositions were taken from prisoners and others.

One such statement is quoted in
The Bloody Bridge, and other papers relating to the insurrection of 1641 (Sir Phelim O'Neill's rebellion)
by Thomas Fitzpatrick, 1903.


It relates to the Bloody Bridge Massacre at Ballaghonery/Ballyonery (three miles south of Newcastle, Co. Down, on the fringe of the Mourne Mountains). A prisoner called John Babe was examined at Carrickfergus on 18 June 1652 and his statement was "duly sworn" and signed by "Hen. Jones, R.A. Hunt, and Edw. Byers."

Edward Byers might have been local, but just as easily might have been a gaoler or soldier from Scotland!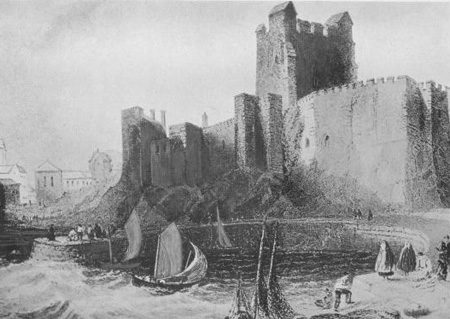 Carrickfergus Castle and Gaol

from Mary Lowry's The Story of Belfast and its Surroundings, Headley Bros., London, 1913.

Hearth Money Rolls, Co. Cavan, 1664
Local Justices of the Peace made these lists of the names of householders in preparation for the levying of a tax of two shillings per hearth or fireplace, to be paid half yearly.
The lists were arranged by barony, parish and townland. Lists for eight of the nine Ulster counties survive (i.e. all except Co. Down).
Co. Cavan
Tullaghconcho – Halfe Barony
Killeshandra Parish

Robert Byes [Byers?] of Drombollin [Drumbullion] – one [hearth]




Register of Derry Cathedral, 1659
Parish of Templemore, 1642-1703 publ. London 1902
28 Feb 1659 The Marriage of Theophilus Davis and Mary Byers was solemnised (John Graham, Peter Stone, and others being present)






Co. Down Rent-Rolls, 1670, 1681 and 1689-92

In 1622 Sir James Hamilton became 1st Viscount Claneboye and part of his Co. Down estate included the three parishes of Inishargie, Ballyhalbert, and Ballywalter (Ballywalter Parish contains the townlands of Ballyferris and Whitechurch).
See

Byers graves in Co. Down

in 18th century sources.
Rent-Roll & Tenures
of the Estate of
Henry Ld. Vist Claneboy
& Earl of Clanbrasil
1670 eta.
Ballywalter Towne

£ s d
George Byers Holds one-third of a tenement paying yearly
foure shillings, six pence 00.04.06
Hens -2-
Daiys work -2-
Ballywalter
W. Byers Holdes one smithy, paies one shill. per annu. 00.01.00
Ballywalter
Wid. Byers Holdes one tenement at thirteen shills. and foure
John Hoop Jun. pence, half an acre of inlands at half a bole 01.06.08
of barley, three acres of Outland at foure shills.
per acre, one acre of mooreland at one shill.
foure pence.
Barley bole - ½
Hens - 6
Daies work - 6
The rental listings for 1681 include the same three Ballywalter (Co.Down) tenants
with their yearly rent in Ballywalter town:
George Byers
£0 5s 6d
William Byers
£0 1s 0d
Widow Byers
£1 12s 8d
In another surviving rent-roll "of the Jointure Lands of Ann, late Countess of Clanbrassill", under Killileagh Parish, the lands of Killinchy and half Ballywoolin had "Old Tenants" names as:
George Maxwell,

James Byers

, etc., paying rents in 1688 of £48 0s 0d between them. The column for "Present Tenants' Names, and Rents to be Paid for 1689, 1690 and 1691" doesn't include Maxwell or Byers.
However, under Tonochneive Parish, the land of Carricknessanagh has as its Present Tenants "

James Byers

, etc." paying a rent for 1689-1691 of £5 10s 0d and £7 0s 0d payable for 1692.
These rental changes came about with Ann's death in January 1689. She had been born Ann(e) Carey, daughter of the Duke of Monmouth and she had married Sir James Hamilton's only son, also James, who was the 2nd Viscount Claneboye and was created Earl of Clanbrassil in 1647.